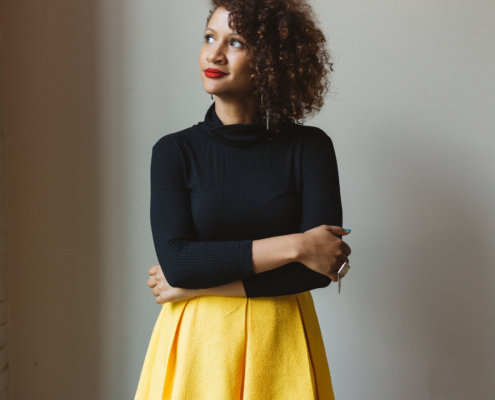 Olivia Rodrigues is a Providence-based stylist who lives for helping her clients go through personal transformations by falling in love with their wardrobes, and enhancing their signature styles. Olivia is also the Co-Founder of The Branding Edit, a boutique visual storytelling studio that specializes in helping passionate entrepreneurs refine their personal brand, expand their presence online & off, and connect on a deeper level with their audience.
What is the origin story of your business?
While I worked doing Fund Development for The Women's Fund of RI back in 2012, I realized that I wanted to do something with my passion/obsession with clothes and fashion. I have a BA in Spanish and a MA in Strategic Fundraising & Philanthropy, and even though I was doing meaningful work and enjoyed the people I worked with, I didn't feel in alignment with my career choice. At the time I was fortunate to be surrounded by an amazing group of mentors and friends from The Women's Fund of RI, Girls Rock! RI, and The Lady Project; I'd say that these various circles gave me the push I needed to make the leap into entrepreneurship.
While working on my fashion blog, I was introduced to RI-based personal stylist Jill Marinelli, who runs an online training program. It was important to me that my business began with a strong foundation, and I knew that I felt comfortable with styling, however, it was the process and the back end stuff that felt unsure. After taking Jill's course, I worked with my friend and Leadership Coach, Carole-Ann Penney of Connect The Dots, who is phenomenal and provided support and guidance as I was transitioning into my new role of entrepreneur. And I have been styling ever since!
I work with a variety of professionals from business owners to nonprofit leaders, and collaborate on projects with local photographers, boutiques, and designers. I get to wear multiple hats which is both exciting and anxiety-inducing, but I have a remarkable support system and business tribe that are always there to remind me of the bigger picture.
What 3 pieces of advice would you give to young professionals looking to make the leap from day-job to business owner / entrepreneur?
First one is, Do create a plan with specific goals but be flexible with the process as long as the end results remain the same. They often are even better than what you had anticipated originally.
Second one is to Trust yourself no matter what. Self-doubt might rear its ugly head from time to time, and that's totally normal. Going against the grain is not easy. Like my father used to tell me; "If it was easy, everyone would be doing it." Give yourself props for taking this major gamble on your brilliant mind, your expertise, and your skills. The self-doubt comes with taking risks and having to make small and big decisions so how you choose to deal with it will either help or hinder your progress.
Third piece of advice would be to Know your self worth, become your # 1 ambassador and be clear on your values and your brand.
Tell us about the role of collaboration in your career.
The opportunity to collaborate with like-minded people to create something magical is always on my radar. Collaboration was essential in getting my business where it is today (and still is to this day). As a wardrobe stylist, I have to work with photographers, makeup artists, hair stylists, models, set stylists, creative directors – and everyone is there to contribute their talent and expertise to make a concept come to life through beautiful imagery. That is pretty much how The Branding Edit came about. It was a collaborative project for The Lady Project that brought Brittanny, Patsy and I together, which then led to two of the closest friendships I've ever had. They are my business tribe, advisory board, board of directors, motivational coaches, therapists – I mean the list is endless.
What does a typical workday look like? Do you have a daily routine or ritual that you swear by / that helps you stay focused as you build your business?
I usually start my day with a hot coffee or hot tea; and give myself a few minutes to relax and go through my planner to see what's on the agenda for the day. If I have time, I'll answer emails. I then wake up my son and get him ready for school while my husband is preparing breakfast. After I drop him off, (if I don't have anything pressing) I'll head to a spinning class, come home, shower, get dressed, eat something, then get to working. Some days, working means being on the computer writing, creating mood boards, sending out pitch emails, and some other days working means driving from shop to shop, researching, pulling from the racks, or buying for a particular client or project.
I do love Fridays the most because The Branding Edit has office hours at Red DWG Library Co-Working Lounge in Pawtucket. It's mentally refreshing to step out of the house and do work in a creatively inspiring location that's not my home studio. I also get to be in the same space with others from the community who are working on cool projects, and the focus is so palpable that it makes working at Red DWG extremely motivating.
Do you have a favorite quote or mantra that inspires you?
"The day you stop racing is the day you win the race." by Bob Marley
We are huge fans of Bob Marley at home and my guys can easily tell when I'm not in the present, so this quote is a constant reminder to have fun in the now. I often set the bar so high for myself that I naturally drive myself into stress mode land and totally forget to enjoy the process. So understanding that my own individual pace is truly all that matters so I better be fully present and savor these moments.
What is one tip you would give to young professionals who feel like they don't know the first thing about fashion or about how to begin cultivating a personal style?
Our wardrobes are supposed to evolve with time; start small and experiment with what has always worked well, plus new styles you've always wanted to try. Pay attention to how you feel when you're wearing your clothes or when you're trying something new in the fitting room and follow that feeling. If you step out of the house feeling most aligned with who you are and ready to be your best authentic self, then that's the style or color or piece of clothing you should experiment with.
Olivia Rodrigues, Wardrobe Stylist + Confidence Coach
Website: www.olivia-rodrigues.com
IG/FB/TW: @OliviaRStylist