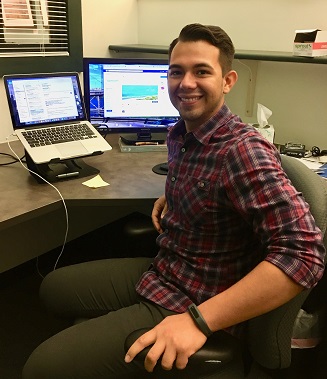 Would you share for us some background details about Sprout and how it came to be?
Sprout was founded in January 2015 by Zachary Weinberger and John Kevorkian after seeing the growing trend of co-working spaces in big cities like Los Angeles and New York City.  Although Providence is a small city, both Zachary and John wanted to create a co-working space tailored to the specific needs of the innovative Providence community.  Sprout was founded with the goal to provide growing businesses, organizations, startups and individuals with an innovative, practical, and yet professional meeting and work space in the heart of Rhode Island.
What is your role at Sprout? How did you end up at this organization versus some of the other options you may have been presented with?
I began working at Sprout as Community Engagement Manager in late June of 2017.  Both Stacey Kaplan, our Community Business Manager, and I, are the first staff ever hired at Sprout.  Zachary and John hired me with the goal of becoming the face of Sprout and growing our memberships, while developing Sprout's marketing and sales efforts through Rhode Island.
Rhode Island has reached a level where it is necessary to put in place programs and locations to foster future growth and innovation. What are some of the changes you see happening that are driving the state forward?
Some of the most notable changes I have seen are that more and more college grads are choosing to stay in Rhode Island after graduating and forming networking and support groups that promote local growth and innovation.  Thus, inviting more and more innovative companies, like Hi Road Insurance and Virgin Pulse, to move to Providence.  Rhode Island is also a great place for entrepreneurs and start-ups because it offers such a diverse demographic of people like in New York and Boston, but in a more concentrated, smaller setting—making it a perfect place for testing ideas and innovation.
Can you highlight the types of companies and individuals you are aiming to host at Sprout?
Sprout has such diverse membership demographics that there is no specific company or individuals we are necessarily aiming to host. But we can say that we tend to attract startups, non-profit organizations, and even corporate companies looking for a place for their remote and local teams to work, have a central hub, and grow.  Our largest demographics at the moment are attorneys, solar companies, and free-lance marketing consultants.
You have an expansion coming up, details please.
Our expansion began on December 26, 2017 and will be completed by the end of this month (January 2018).  The expansion offers 7 additional private offices, an additional 8-10-person conference room, and 1500 square feet of space for flexible seating and co-working, innovative team meetings, large presentations and training sessions—which will also double as our premier event space with room for over 100 people.  Our waiting list is now open for private offices (available on January 29th on first come, first served basis), for flexible 24/7 co-working memberships, and for inquiries in holding public and private events of all kinds.
What is the vision for Sprout and how can the community get more engaged to support the mission (this includes state support).
Our vision is to expand beyond Providence and offer our space and services to the creative and innovative communities of the East Bay and South County—the East Bay is our next project which will be opening in Warren in Early March.  Also, one day, we would like to have Sprout locations in other small, yet innovative, cities like Providence.
The best way to support our mission is to talk about it. Our mission is simple: we want to provide the ground for remote workers, creatives, entrepreneurs, organizations and startups to organically collaborate, exchange ideas, network, and grow.  The more people know about Sprout and all it can offer, the more all these people mentioned above will find us and get innovating, collaborating and growing at Sprout.
Upcoming events for 2018 that we should put on our calendars?
Our expansion will be completed by no later than January 31st, and our 2 year anniversary/grand opening party is coming up in late February (we are still working on more details but we plan to host it in our new event space in Providence).  We are also opening a new location in the East Bay in the first week of March, followed by a grand opening party in mid-March.  More details will come as we get closer to completing our Warren location.
Where can people go to learn more about Sprout and your various offerings?
Our website, sproutcoworking.com, has all the information on our services, memberships, meeting rooms, events, and pricing.
You can also feel free to call our office at 401-536-9336 or drop by in person for a tour from Monday to Friday 9am-5pm.  For more information on private offices or to join our waiting list you can contact me directly at luis@sproutcoworking.com.